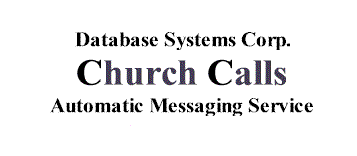 Sending church announcements and invitation calls can now be automatically performed using technology from Database Systems Corp. (DSC).
Emergency alerts and notices can also be delivered to a congregation in a quick and efficient manner.
Why Send Church Calls?
"Church call announcements are an important aspect of connecting with people who visit the church.

A Church that does not follow up with visitors is a church that most likely will find it difficult to have them return for another visit."
DSC provides calling services that can send church announcements such as welcome messages to new members of a congregation.

This same service can be used to broadcast phone messages announcing church events, request volunteers for special services, annouce special meetings and conduct membership drives.
Register Online And Save!
Signing up is easy and can be completed in just a few minutes.

Once you have filled out this online service form and agree to our online terms and conditions, you are ready to activate your calling account. We accept major credit cards and can process this completely online.

Starting at just $25, our service is both affordable and reliable. Simply download your list of phone numbers and record a phone message using our 800 number service. Its that simple and you are ready to broadcast your message to your community.

DSC can also provide you with a written agreement that can be downloaded, printed and executed. Simply mail this agreement to DSC and a representaive willl contact you about payments.

If you have any questions, please call us at 602-265-5968.
---
Our Lady of Victory Catholic Church

"The mission of Our Lady of Victory Catholic School is to integrate Catholic truths, values and attitudes with the intellectual, emotional, social, spiritual and physical development of our students. Our Lady of Victory Catholic School is committed to preparing children to live in the world as caring, productive citizens, life-long learners, and witnesses of Jesus Christ." - www.olvcs.schoolwires.net
Our Lady of Victory Catholic Church has contracted with Database Systems Corp. to provide church phone message broadcasting services to its members. Messages are delivered to answering machines and individuals for event notification - especially church invitational and funeral announcements where there is a very short window of time to notify its membership. Voice broadcast messages are also sent to church members for other special meetings and events.
---
Manage Church Calls Using Your Smartphone
DSC now lets you manage your church calls using your Droid and iPhone smartphones. The following easy to use functions are available to smartphone users.
Login to your account
Select a list of phone numbers to call
Select saved recordings to broadcast
Record messages by calling our service
Start and Stop a voice broadcast
Monitor the voice broadcast in progress
This smartphone application now lets you manage any number of church calls using simple phone commands. Contact DSC to learn more about this simple way to control your calling campaigns and to obtain a copy of this smartphone application.
Church Announcement Applications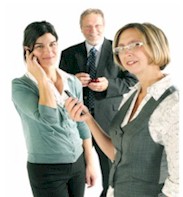 Automatic church calls have many applications. If a church administrator needs to get a message out quickly to the congregation, automatic phone messaging is the ideal solution to this problem.

Complete online reports are available to show you the results of your message campaign.
Call Us Today
Contact DSC to learn more about how to call church members.